EPSTONE, specialist of stone pavers
Pavers installation
Installation of natural stone pavers in the Maritime Alps and the Var
Epstone offers its expertise for installing your paving in the departments of Alpes-Maritimes and the Var. In fact, we have vast experience in the field with an average of more than 10 000 m² of pavers installed every year. Our team operates efficiently and adheres to all preliminary installation steps and finishes for a result that meets your expectations. Ideal for creating an access path, paving is also used for roadways, footpaths, terraces… We exclusively offer high quality, 100% natural stone paving.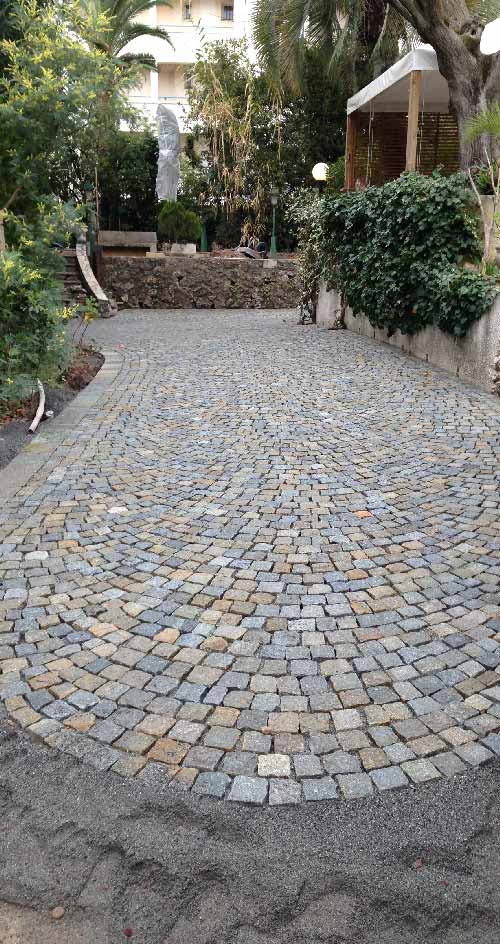 OUR SERVICES
Paving for roadways, terraces…
Installation is our job!
Trust our team of installers to lay your paving. We lay pavements according to your needs and wishes: access path, footpath, terrace… You can also contact us about creating roadways. The paving materials that we use are very solid, which allows the stone to withstand very heavy loads (19 tonnes), even with the passing of time. We adapt to all your desires by offering several models and nuances.
We have mastered the installation techniques with professionalism. In fact, we lay paving, according to an ancestral technique, on previously prepared ground while adhering to water drainage slopes and painstaking jointing methods for perfect finishes. We adapt our techniques according to the soil type and its resistance to ensure excellent durability.
Paver installation: 240 stones and styles solutions…
The different installation styles
Indulge in the aesthetics and authenticity of the paving! High quality: The paving that we offer is 100% natural. In addition, this type of coating requires no special maintenance.
Whether it is for the resistance of driveways, nobility of sidewalks, uniqueness of your garage access, authenticity of your rooms, timeless roundabouts, traditional roads or sustainable paths: pavers are your natural solution.